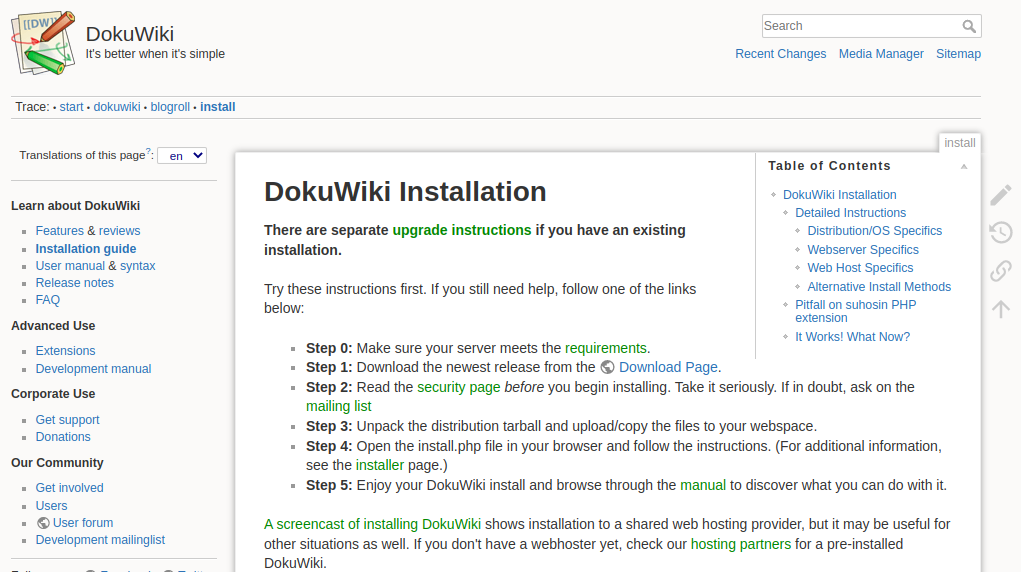 ---
---
Want to create your own Wikipedia?
Knowledge is everything – if you can find it – and it's up to date. Some you may want to share with outsiders, some you will want to keep private but need it to be available anytime anywhere from a password protected browser. One's own corporate encyclopedia.
DokuWiki is the leading alternative to the software built for Wikipedia for those that want something simpler but which does mostly the same thing:
User creation and editing of unstructured information
Intuitive editing
Automatic revision archiving
Integrated search
Fast
In their own words
DokuWiki is a simple to use and highly versatile Open Source wiki software that doesn't require a database. It is loved by users for its clean and readable syntax. The ease of maintenance, backup and integration makes it an administrator's favourite. Built in access controls and authentication connectors make DokuWiki especially useful in the enterprise context and the large number of plugins contributed by its vibrant community allow for a broad range of use cases beyond a traditional wiki. (https://www.dokuwiki.org/dokuwiki)
How?
We can set up DokuWiki on one of our BrainServers for you and guide you through the start-up. So all you pay for is the server – for as little as £29+vat per annum. Ring today and have a Wiki tomorrow!